Featured Products
Full-color Printing
Make a great impression with popular items such as brochures, postcards, fliers and rack cards. You name it.

Post-It® Notes
Customized Post-It® Notes and other 3M printed products are available to enhance your brand.

Weddings, Stationery and More
It's time to tell the world. Whether you're announcing a special event or broadcasting your business, we can help you spread the news with professional appeal.

Promotional
Claim space for your brand in every recipient's office or home. With branded gifts and give-aways, a mug, hat, pen or any of our 300,000 plus items will make a big impression.

Wearables
Select from shirts, fleece, outerwear, sportswear, hats and much more. Show off your brand. If you don't find what you need here, contact us for many more choices.

Blueprints
Take advantage of our Xerox brand digital technology. See us for crisp, black and white prints for your next project.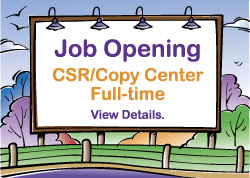 Copy Express Printing and Marketing News
Posted on 04/16/2018

You may ask, "Earth Day and marketing?" How could those two possibly go together? Today we're going to discuss how to embrace Earth Day in your marketing efforts.

Posted on 04/09/2018

Drip email marketing, otherwise known as drip email campaigns, is the perfect way to automate the marketing and sales process, easily converting leads into customers.